The Sea Pines Trolley is a complimentary transportation service in Sea Pines and is a wonderful way to experience all that Sea Pines has to offer.
Trolley Service Information
To track the location of the trolley in real time visit: www.seapinestrolley.com
---
2022 Trolley Schedule
The trolley service to the Blue, Green and Red Routes will operate with the following service times:
ROUTES
4/11 – 4/17
5/27 – 9/5
11/25 & 12/23
12/31
BLUE
9am – 10pm

No Service

4pm – 1am
GREEN
10am-10pm

No Service

4pm – 1am
RED
4pm – 10pm
4pm-10pm
4pm – 1am
BLUE ROUTE 
Runs from the Harbour Town Trolley Stop to Sea Pines Beach Club and makes stops at Harbour Town Swimming Pool, Racquet Club Villas, Heritage Pad at Lighthouse and Plantation, The Shops at Sea Pines Center, Plantation Club Villas and Plantation Golf Club
GREEN ROUTE 
Runs from the Harbour Town Trolley Stop to South Beach and stops at The Shops at Sea Pines Center
RED ROUTE 
Runs from the Greenwood Drive Trolley Stop to Harbour Town and makes stops at Lawton Stables and The Shops at Sea Pines Center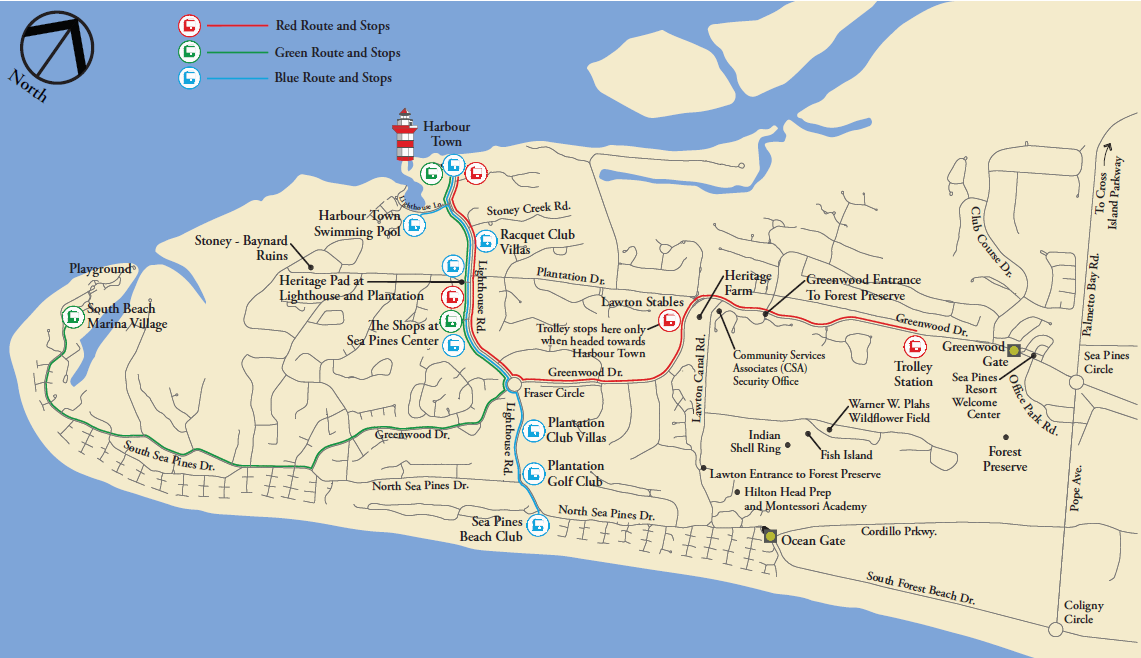 Click here to view and print the 2022 Trolley Service Information, Schedule and Map.
---
For your safety: Enhanced safety protocols
Request to riders: Please be advised, close contact amongst passengers is expected. Passengers ride at their own risk. If you feel sick, have a fever, cough or other symptoms, please stay home and do not ride the trolley. Wash your hands frequently and avoid touching your face.
Personal Protection Equipment is required: All passengers and trolley drivers will be required to wear face coverings when aboard the trolley. Refusal to wear a face covering or acting in an unsafe manner will result in denial of entry or expulsion from this service.
---
Trolley Rules or Disclaimers
No pets allowed (service animals only).
No unattended children (under the age of 10).
No alcoholic beverages in open containers.
No coolers or beach accessories from the Greenwood Trolley Lot.
Proper attire is required at all times.
Keep all extremities inside trolley while moving.
All abandoned articles will be stored at the lost and found located at the CSA Administration building 175 Greenwood Drive.
Do not throw objects from the moving vehicle.
Driver has the right to refuse service.
No weapons allowed on trolley.
No fishing gear except collapsible poles.
Eating is prohibited on the trolley.
No standing on the trolley while in operation.
---
For questions regarding trolley service, please contact the Trolley Manager by phone at 843.671.7844 or by email at sptrolley@csaseapines.com
---
Trolley Rentals
Looking for a unique transportation venue for your next private function, family gathering, wedding or other event?
Sea Pines Trolleys are available for all types of special events on Hilton Head Island.
Seating capacity is 24 persons and all trolleys are open-aired with drop curtains in case of inclement weather. Trolleys are equipped with A/C and a sound/audio system. Non-alcoholic beverages and coolers are allowed on board. The Sea Pines Trolleys are property of Sea Pines CSA and rental restrictions do apply. DOT regulations do not allow Trolleys to operate on the mainland. Trolleys must stay on Hilton Head Island. Smoking is prohibited on the trolleys.
Please contact Lou Maietta at sptrolley@csaseapines.com for more information on booking a trolley.